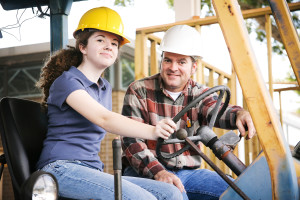 By Debbie Dickinson
In the United States, women represent less than 9 percent of construction workers, according to 2014 U.S. Bureau of Labor Statistics, and only 1.3 percent are working as operating engineers or other construction equipment operators. Other countries report similar statistics. There are a variety of reasons women don't consider construction as a career path. 1) Parents and education systems have not traditionally encouraged girls to explore STEM careers (Science, Technology, Engineering, Math) careers. 2) The perception is that there are few mentors and networking opportunities to gain access to employers. 3) And, there are questions about the work environment for women.

Yet, the industry continues to face drastic skilled labor shortages. Tapping into the other half of the population is a smart solution for closing the labor gap. Debbie Dickinson, CEO of Crane Industry Services, is a member of ABWA, American Business Women's Association. She and other ABWA members, such as Rita Wilson Harris with Greystone Power have mentored women and girls for years and are pleased to see women taking an interest in skilled craft professions. "These are jobs that pay well and are in high demand," says Dickinson. Here are just a few reasons why women are good for the construction industry.
Diversity drives innovation. A 2013 University of Pennsylvania study and a subsequent one in 2015 indicates that men and women bring different strengths to the table. "Male participants tended to perform better at spatial and motor tasks, whereas female participants were on average superior at nonverbal reasoning and recognizing emotions," reported NYMag.com. Diversity drives creative thinking and innovation.
High emotional intelligence reduces conflict. As noted above, women bring a different skill set to the job site when it comes to communication. Effective communication leads to increased safety and productivity. (The People-Profit Connection by Brent Darnell and More women in construction—an intelligent solution by Michelle Brennan.)
Being tech-savvy contributes to productivity. FMI, citing a survey by HR Policy Foundation, reports that millennial workers make significant contributions to their workplaces due to their inquisitive nature, tech-savviness, and drive for innovation. Today's construction sites are technology-based, which levels the field between genders on the job site. Modern cranes, for example, are hydraulically controlled and feature sophisticated operational controls, reducing the amount of physical exertion needed to run the crane.
Placing value on training sets the tone for safe work sites. In an NCCER blog post, Mittie Cannon, Director of Workforce Development for Robins & Morton, shares that many of the women working in the construction industry whom she has talked to place high value on training. Someone who is willing to learn the right way to perform work is an asset employers.
What's good for the job site is also good for the C-Suite. Female owners and managers in construction are increasingly on the rise. (Women are breaking through the concrete ceiling by Deena Shanker.) Crane Industry Services is one of those. This spring, CIS successfully renewed its certification from the National Women Business Owners Corporation (NWBOC) as a Woman Business Enterprise. WBE status is achieved only after filing legal paperwork establishing female-majority ownership of a company. WBE certification from NWBOC requires a thorough application process and in-person site visits.
Females interested in learning more about career opportunities in construction can contact me at debbie@craneindustryservices.com. Or check out this resource list for women in construction.